On View at the Oakland Museum
by
Theodore Ellison
When you go see the Daniel Clowes exhibition at the Oakland Museum, be sure to see my leaded glass window on view not far from the Diebenkorns, Langes, Arnesons and McMillans.
Don't ask anyone where it is even though it's installed as part of the Permanent Collection. I was able to smuggle in a camera in case you can't make it.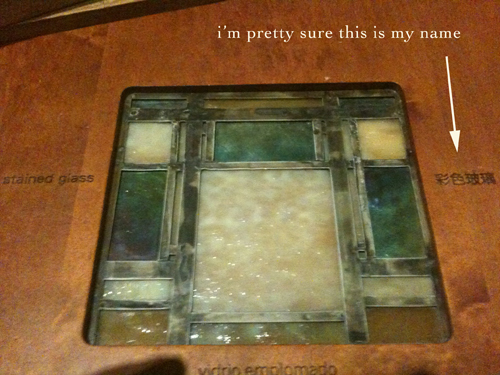 A couple of years ago Tedd Colt of Caledonia Studios was commissioned to create a suite of furniture for the Arts & Crafts study area. The museum requested insets of materials such as hammered copper and stained glass for the kids table, so Tedd asked me to come up with something suitable (lead-free) and I made this panel and another one nearby. Although the museum administrators refuse to meet with me or acknowledge my contribution in English, I am pleased that the kids whose parents park them there appreciate my contribution to deepening the understanding of the importance leaded glass plays in the world of Decorative Art. I just wish they'd stop drooling all over it and coloring it in with their crayons.